Advanced Termite Treatment Services In Brisbane
Termite is one of the most destructive pests to the home and construction industry, considering the widespread damage it makes.
Do you see signs of termite barriers and infestations at your property and want professional termite treatment in Brisbane? Are you searching for advanced termite control services to secure your furniture and other wooden products?
Tom's Pest Control offers tailored termite protection and white ant control services to help the homeowners and businesses of Brisbane to prevent various property damage. We will complete detailed termite inspection and provide treatment services that address every termite issue at the property.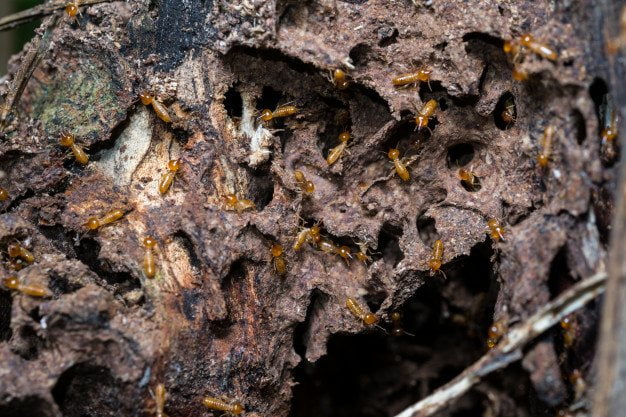 Why Should You Worry About Termites?
Termites do not cause any health issues to humans, but the pest can impact you financially. In Queensland, you can primarily find two species of termites: subterranean termites and dry-wood termites.
Learn the list of damage caused by these termite species and the importance of termite and white ant barrier to secure your property:
Therefore, if you fail to complete termite control services on-time, you are actually ending up spending much more than you think – sometimes the total construction cost of your property.
How To Confirm Termite Attack?
The termite attack may not be visible to you always, but you should confirm the pest infestation with the following signs:
As soon as you see the signs of termites at your property, call Tom's Pest Control for immediate termite and white ant treatment services. At Tom's Pest Control, we have local termite control specialists who can provide you with same-day treatment services to ensure minimal damage to your property.
A Complete Treatment Service
Tom's Pest Control offers a four-stage, complete termite control service for all our commercial and residential customers. This way, we ensure that the properties are not only treated for current infestation but the future risks of termite attacks as well.
Inspection
Our certified spider control specialists will come to your property and complete a comprehensive termite and white ant inspection to confirm the extent of pest infestation. We will also identify and document and the termite species at your property, the magnitude of property damage, and more.
We will also inspect and find the factors of your property that attracted the pest to it. Our detailed inspection report will have the findings, areas of concern, recommendations, photographs of infestation, and more.
Treatment Plan
Based on the inspection results, our technicians will create a tailored treatment plan to save your property from pests. The treatment plan will have the type of treatments and the procedures, the duration of the treatments, the expected results, and the details of any follow-up treatment.
We will communicate the treatment plans and procedures with you before the treatment and ensure a transparent service experience.
The Extermination Procedure
Our termite control specialists will complete the extermination as described in the plan. We either use any of the following treatment options or a mix of those based on the pest infestation. We use termite baits, termiticides, termite shields, repellents, and more to get the best results.
Regardless of the treatment type, we use only environmentally friendly, approved pest control products as we are very much focused on the health and wellbeing of our customers.
Ongoing Prevention
The termite control and white ant protection treatment alone cannot give long-term results or prevent future infestation. Therefore, we will provide you with specific techniques based on your property conditions and help you to get permanent protection against termites.
The following general tips also can help you to limit the termite infestation and associated issues:
Clear any clutter in and around the property that hides the infestation from your eyes.
Remove or repair anything that increases the humidity levels inside the property, including leaking taps, hot water system overflow, discharge from air conditioners, and more.
Remove any piling of wood stalks from the interior and exterior of the property.
Regularly inspect the property for finding the traces of termite infestation.
Why Tom's Pest Control?
We offer a professional, hassle-free service experience for our customers. For that, we have set specific service standards that ensure seamless service experience.
The highlights of our services are the following:
If you don't see the pest infestation not subsidising within two weeks of our treatment, you can contact us for a retreatment absolutely FREE. Our technicians will revisit your property, complete the pest control, and make you fully satisfied with our service.
Save Your Property From Termite Infestation
Call us today on
(07) 3184 4223
or use our online form to discuss the termite issues at your property. Let's save your property and personal products with professional termite control services.