Fox Control Services In Brisbane
Foxes are one of the biggest threats to native species, domesticated animals, and agriculture industry of Australia.
Do you notice traces of foxes around your property and want professional fox trapping services in Brisbane?
Tom's Pest Control offers comprehensive fox removal services in Brisbane. With qualified fox control specialists and modern tools, we can make your environment free of the pest permanently.
The Queensland pest distribution survey in 2013-14 by the Department of Agriculture and Fisheries confirmed the widespread fox infestation issues in Brisbane and its suburbs.
Extent Of Damage Associated With Fox Infestation
European red foxes are the most visible fox species across Australia as they are adaptable to urban environments, inner-city, areas, and deserts alike. The pest animal rests during the day and becomes active at night.
The pest creates the following issues for our workplace and homes:
The aggressive nature of foxes makes them a great threat to the livestock and farming industry.
How To Confirm The Presence Of Foxes In Your Environment?
Since foxes are mostly active at night, you may not see them directly to confirm the infestation. With the following signs, you can confirm the presence of foxes in your environment:
If you see the signs of foxes at your property, contact Tom's Pest Control immediately to make an inspection and carry out a tailored fox removal service.
Tom's Pest Control's Way Of Treatment
At Tom's Pest Control, we offer long-term solutions to fox pest issues at the residential properties and commercial spaces of Brisbane. Our four-stage process not only addresses your current pest issues but eliminates future infestation risks as well.
Inspection
Our fox control specialists will come to your property and complete a detailed inspection for the pests. The inspection will help us to identify the habitats of the foxes around your property, the fox species, the fox population in your area, the extent of damage, and more.
We will also identify the conditions and factors around your property that lure foxes.
Treatment Plan
Based on the inspection, our fox control specialists will create a tailored treatment plan to make your property premises free from the risks of fox infestation. The treatment plan will include the treatment procedure, the timeline of the treatment, the results from the treatment, and more.
We will update you the treatment plan before starting the procedure.
The Fox Control Procedure
We use a number of control methods to limit the foxes in your space. Our treatment procedures include trapping, shooting, poisoning, repellents and scare devices, and more. Based on the extent of the pest infestation and individual circumstances, we may use a mix of these procedures to get the best results.
If you have sheep and goats and take them out for grazing, you can use guard animals like Maremma dogs to protect your animals.
Ongoing Prevention
We will also ensure that ongoing prevention techniques are in place to protect your produces and animals for so long as you want. If you want to protect your poultry or high-value stock, well-constructed exclusion fencing is a great choice. We will also advise you specific techniques to control the pest population in your environment.
The following general tips can help you to minimise the fox population in your space:
Never try to feed foxes or do not keep any food sources accessible to them, including pet food, food garbage, water sources, and more.
Always use tightly secured garbage cans to keep garbage and empty them regularly.
Remove any clutter around the property; ensure proper, regular yard maintenance.
If you have an orchard in your premises, regularly clean up to avoid the piling of fallen fruits.
Why Tom's Pest Control?
At Tom's Pest Control, we ensure a seamless service experience for our customers with the following service standards: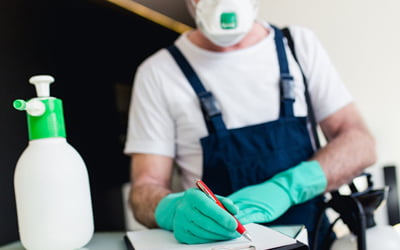 Secure Your Pets And Livestock Today
Call us today on
(07) 3184 4223
or use our online form to let us know the fox infestation issues at your property. We can create a safe environment for your pets, livestock, and yourself.