Beetle Pest Control Services In Brisbane
Beetles are a nuisance for the routine life of humans. They make greater discomfort to pests as well.
Do you see beetle infestation at your property and searching for professional beetle treatment in Brisbane?
We welcome you to Tom's Pest Control – the destination for professional pest control solutions. We provide tailored treatments based on the level of infestation, the beetle species, and the factors that led to the beetle infestation.
At Tom's Pest Control, we have several years of experience in offering comprehensive beetle pest control solutions, including a complete inspection and ongoing prevention tips and steps.
Beetle Species In Brisbane
Per the latest data, Australia has more than 23,000 named beetle species. Only a few of them impact our properties. Some of the most common beetle species you can find in Brisbane and suburbs are the following:
These beetle species cause varying levels of property damage and can endanger the healthy living environments.
Why Is Beetle Pest Control Important?
Since most beetle species don't attack humans, you shouldn't think the extent of damage due to the pest is limited.
Be it for exterior beetle control or interior beetle extermination, you can contact Tom's Pest Control for qualified services. Do you have specific questions about the characteristics of beetles or the species? Contact Tom's Pest Control today, our beetle control specialists are happy to provide you with the right information and guide you to get the pest control services.
The Treatment Process
Tom's Pest Control offers a comprehensive – four-stage – beetle control services to limit the pest population in your environment. From inspection to ongoing prevention, our treatment procedures are designed to give you long-lasting results.
Inspection
Our qualified beetle extermination specialists will visit your property and complete a detailed inspection. The inspection will help us to identify the beetle species, the level of infestation, the extent of damage, and more.
We will also identify the reasons and factors of your property that led to the infestation issue.
Tailored Treatment Plan
Based on the inspection results, we will create a tailored treatment plan for the beetle infestation at your property. The treatment plan will include the type of treatment procedure, the length of the treatment, the expected outcome from the treatment, and the need for any follow-up treatment.
We may have specific instructions to the inhabitants – to be followed during and after the treatment. We will communicate those instructions to you before beginning with the treatment.
The Extermination Procedure
Our extermination specialists will complete the procedure as described in the treatment plan. We often use a mix of treatment procedures, including fumigation, beetle traps, biological control methods, and insecticides.
At Tom's Pest Control, we care about the health and safety of our customers. Therefore, we use only environmentally, safe pest control products to secure your property from pests. All our pest control products are approved per Australian standards and make zero harm to humans and animals.
Ongoing Prevention Tips
A single treatment may not give you permanent results if you don't have proper ongoing prevention procedures in place. We will provide you with specific pest prevention tips and suggestions to make your property beetle free.
You can also do some proactive, general prevention steps to make the beetle population around your property minimum. You can
Mop and clean your property on a regular basis and ensure proper sanitation
Mow grass, trim shrubs and trees, and ensure proper yard maintenance
Inspect your clothes, furniture, and surroundings for the pest infestation at regular intervals
Why Tom's Pest Control?
Tom's Pest Control is committed to providing superior quality pest control service. With the following characteristics features, you will find our services ideally fitting to your requirements:
You will get a transparent, professional service experience by choosing our carpet beetle control services. Let us know the infestation issues at your property, we will provide you with an upfront, obligation-free quotation, and offer treatments to make the property free of beetle infestation.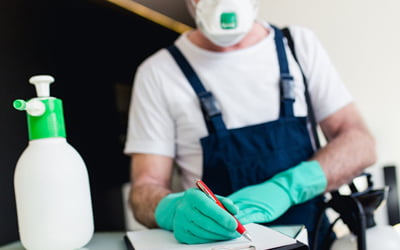 Make Your Property Beetle Free Today
Call us today on
(07) 3184 4223
or use our
online form
to connect with us and let us know the beetle issues at your property. Let's make the health and wellbeing of the people and animals in your environment seamless.