Ant Pest Control In Brisbane
Ant infestation on properties is a painful experience for most people.
Are you worried about the ant infestation issues at your property and searching for expert ant pest control in Brisbane? Do you see that your property is prone to ant pest issues and want some permanent ant control options?
We welcome you to Tom's Pest Control – the destination for professional ant treatment and control services.
At Tom's Pest Control, we offer comprehensive ant pest control services that include detailed pest inspection and tailored treatment services. Regardless of you want pest control for your commercial property, residential space, or industrial facility, we can provide superior quality, long-lasting ant control services with our state-of-the-art techniques and expert pest control specialists.
Pest Ant Species In Brisbane
Australia has more than 4,000 species of ants with the majority of them not being pests. But a few species invade our homes and pose threats to the peaceful life we live.
In Brisbane, you may encounter the following ant species more often, and you need quick extermination services to protect your family, pets, and your property from these species:
You can also find a number of garden ants in Brisbane, including greenhead ants, carpenter ants, meat ants, and black garden ants. We offer carpenter ant treatment or black garden ant control services. We also have tailored treatment procedures for each ant species, based on their characteristics and extent of the infestation.
Why Pest Ant Treatment?
Pest ants can significantly bring down your quality of living if you fail to treat them on-time. You will experience the following issues or troubles with pest ants at your property:
At Tom's Pest Control, we know how ant infestation can make your life horrible and disorganised.
Ant Treatment Services Brisbane
Tom's Pest Control offers comprehensive ant treatment services that not only remove the current pest infestation but safeguards you from future infestation as well. Our four-stage pest treatment procedure is designed to protect your family and pets from various health issues and the property from damage.
Inspection
Our qualified ant control technicians will visit your property and complete an all-round inspection. This will help us to identify and document various aspects about the ant infestation at your property, including the ant species, the level of infestation, nest locations, colony lifetime, pheromone trails, and the associated damage at the property.
We will also identify any specific factors of your property that induce the infestation for ongoing prevention.
Tailored Treatment Plan
Based on the inspection results, we will create a tailored ant control plan to make your space free of any infestation issues. The treatment plan will have the treatment procedures, the timeline of the treatment, the expected results, and the need for any follow-up treatments.
We may have specific instructions for the inhabitants of the property as part of the treatment. We will include the instructions in the treatment plan and update you the same.
The Extermination Procedure
As described in the treatment plan, our pest control specialists will complete the ant extermination procedure at your property. Based on the infestation and the location, we use a mix of treatment procedures, including ant fumigation, baits, insecticidal dust, granules, ant repellents, and more.
As we give greater focus to the wellbeing of our customers, we choose only healthy, environmentally friendly products for the treatment. All our treatment supplies are approved per Australian standards and safe for children, adults, and pets.
The Ongoing Prevention
With just treatment alone, you can't make your property ant-free in the long term. We will help you to achieve the goal of a healthy, safe environment by providing specific ongoing prevention tips and strategies.
You can minimise the ant infestation at your property with a number of general tips and steps. This includes
Regularly clean and maintain your property
Ensure proper removal and disposal of garbage
Store food in tight boxes and containers
Regularly mow and ensure yard maintenance
Inspect and seal the access points of ants such as cracks around door and windows, doors, etc.
What Makes Tom's Pest Control's Services Unique?
We provide a unique service experience with our pest control services. You will find our services rightly meeting your requirements with the following features:
If you see ant issues at your property not controlled within two weeks of service, you can contact us for FREE ant retreatment. Our ant control technicians will visit the property again and complete the treatment based on your expectations.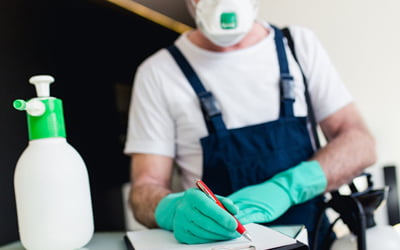 Make Your Environment Pest-Free And Healthy
Call us today on
(07) 3184 4223
or use our
online form
to let us know the ant infestation issues at your property. We will give you a detailed, obligation-free quotation and help you to ensure your health and wellbeing with our expert services.