Professional Wasp Control Services In Brisbane
Wasps and wasp nests in a property give sleepless nights to the inhabitants of the property. The aggressive pests react to even slightest disturbances, and the stings can be deadly.
Do you see wasp nests around your property and searching for professional wasp control in Brisbane to ensure optimal safety for your family and neighbours? Do you see traces of wasps around you and afraid that your property is infested by the pest?
We welcome you to Tom's Pest Control – the primary destination for a comprehensive range of pest control services, including wasp pest control in Brisbane.
At Tom's Pest Control, we offer tailored wasp removal and control services after making a detailed pest inspection at the properties of our customers. With our services, we will help you to prevent future wasp infestation risks as well.
Common Wasp Species In Queensland
Australia has more 10,000 different species of wasps, and only a few of them are pests to humans. There are nearly 2,000 bee species as well, but they are not as aggressive as pest wasps.
In Queensland, you can find the following species of pest wasps more common:
Tom's Pest Control offers tailored treatment for all these wasp species by understanding their behaviours and habitats.
Dangers Associated With Wasps In Your Environment
People often underestimate the risks associated with wasps and wasp nests in their environment. Since you have wasp infestation issues in your property, you should know why it is important to complete an extermination treatment for the pest.
Therefore, as soon as you see the instances of wasps at your property, call Tom's Pest Control for quick wasp control treatments.
The Signs Of Wasp Infestation
You may not see live wasps for confirming the pest presence and infestation. However, you should be able to verify the infestation with the following signs and symptoms:
If you see signs of wasp infestation at your property, call the professional exterminators of Tom's Pest Control immediately for the wasp nest removal and treatment services.
Tom's Pest Control's Wasp Control Process
At Tom's Pest Control, we offer a comprehensive, four-stage treatment process to remove the wasps and their nests from your property. Not only that, we will help you to minimise the future wasp infestation risks as well.
Inspection
Our certified wasp control specialists will visit your property and complete a detailed inspection to identify the extent of the infestation. We will also confirm the wasp species, the specific factors of your property that attract the wasps to it, and more.
Our inspection report will give the actual picture of the infestation, including the findings, wasp nest sites, photographs, and recommendations.
Treatment Plan
Based on the inspection results, we will create a tailored treatment plan for the wasp infestation. The plan will have the treatment procedures, the timeline of the treatment, expected outcome from the treatment, and any specific instructions to the inhabitants of the property during the treatment.
We will communicate the treatment plan with you before starting the procedure and ensure that you are receiving a transparent service experience.
The Extermination Procedure
Our experienced wasp extermination technicians will complete the removal of the pest as described in the treatment plan. Using modern tools and safety equipment, they will treat and remove the nests and ensure zero wasps in your environment.
We use either of the following treatment options based on wasp infestation level: nest drenching, nest dusting, perimeter spraying, baiting, or wasp traps. At Tom's Pest Control, we offer safe, environmentally friendly treatment solutions and use only approved products per Australian standards for the treatment and removal of wasps.
Ongoing Prevention
If your property has favourable conditions for wasp nesting, you may again experience the pest infestation after a while. Therefore, we will provide you with specific techniques and strategies that make the property not convenient for wasp infestation.
The following general tips can help you in minimising the risks of wasp infestation:
Keep fruits inside the refrigerators or tight containers. Wasps are always attracted to the sweet smells of the fruits.
Never dump food openly, store garbage and food residues in a sealed waste bin.
Patch cracks in the walls and near windows to prevent the entry of the pest interior.
Ensure proper yard maintenance, including regular trimming of shrubs and trees.
Why Tom's Pest Control?
We became the trusted partner of the homeowners and businesses of Brisbane with advanced pest control services and superior service standards.
The highlights of our service include:
You can contact for a FREE retreatment if you see the pest issues are not subsidised within two weeks of our service. Our wasp control technicians will come to your property and complete the treatment to ensure a safe property environment for you.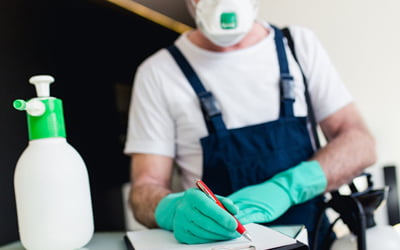 Remove Wasps From Your Property
Call us today on
(07) 3184 4223
or use our online form to let us know the wasp issues at your property. We will create a safe and seamless environment at your property that can ensure your wellbeing.