Moth Pest Control Treatment In Brisbane
Moths cause a number of indirect effects on human health in addition to personal property damage.
Do you see traces of moth infestation at your property and searching for advanced moth control services in Brisbane? Are you upset with the damage of your personal products and want some permanent solutions to the moth issues at your property?
Welcome to Tom's Pest Control – the destination for permanent moth removal and treatment in Brisbane.
With certified pest control specialists and state-of-the-art moth control techniques, we can make your space of free of moths in a quick turnaround.
Importance Of Timely Moth Control
There are several species of moths, and most of them do not impact humans or personal products. Only a few of these flying insects come inside residential and commercial properties and cause damage to clothes, food, carpet, and more. The pest moth species include clothes moths, carpet moths, brown house moths, pantry moths, and more.
Before choosing the services, you should know the extent of the damage the pest infestation can create in your property.
As soon as you come to know about the moth infestation, call the professional moth control service to minimise the property damage and restore your quality of living.
Signs Of Moth Infestation
Since there are a number of pest moth species with each of them having unique characteristics, you have to make a comprehensive inspection to confirm the infestation at your property.
Do you observe any of the following at your property?
If yes, your property needs a professional inspection for moth infestation, and you can contact Tom's Pest Control for a quick but comprehensive inspection and advanced treatment services.
The Treatment
Tom's Pest Control is committed to providing long-term solutions to infestation issues regardless of you want brown house moth control or carpet moth treatment in Brisbane. We have comprehensive – four-stage – treatment procedure to secure the property from the infestation and the associated damage.
Inspection
Our certified moth control technicians will visit your property and make a comprehensive inspection. It will help us to identify the moth species, the extent of the infestation, the magnitude of damage at the property, and more.
We will also assess and find out the aspects and factors of the property that led to the unprecedented moth population. This helps us in creating techniques and strategies for permanent results against future infestation.
Treatment Plan
Based on the inspection results, we will create a tailored treatment plant for the moth infestation issues at your property. The plan will have the treatment procedure, the timeline of treatment, the expected outcome from the treatment, and more.
We will also confirm the requirement of any follow-up treatment to make your property optimally free of the pests. Before beginning with the treatment, we will update you the treatment plan to ensure that you are receiving a transparent service from us.
Moth Extermination
Per the treatment plan, our moth pest control specialists will complete the extermination to safeguard your health and personal products. Based on the extent of the moth infestation, we may use a number of treatment options.
Our treatment procedures include fumigation and insecticides as treatment options. Regardless of larvae, adult moth, or white moth removal, we use only approved, safe pest control products and procedures as we are committed to offering family-friendly treatment services.
Ongoing Prevention
In addition to the treatments, we will also give you specific techniques to ensure long-term results against moths. Some general tips can also help you to reduce the infestation to a larger extent.
Keep your property thoroughly vacuumed and cleaned, including carpets, and mouldings.
Wash clothes and fabric products before storing them for longer periods of time.
Keep your clothes and personal products in airtight storage spaces and regularly inspect for moth inspection.
Ventilate every area of your property that has high humidity. If required, install a dehumidifier.
Why Tom's Pest Control?
At Tom's Pest Control, our service standards make the difference and helped us to become the primary destination for all types of pest treatment services in Brisbane.
Don't you see the pest issues subsidised within two weeks of our treatment? Then, you can contact us for a FREE retreatment. We are happy to revisit your property and complete the pest control based on your expectations.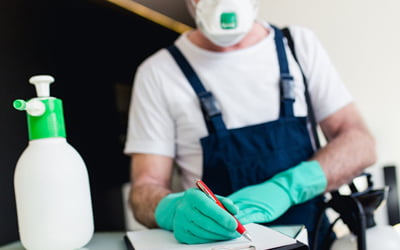 Make Your Property Moth Free Today
Call us today on
(07) 3184 4223
or use our online form to let us know the moth infestation at your property and get an obligation-free quotation. We will help you to protect your health and personal products with our advanced pest control services.