Wood Borer Treatment In Brisbane
Borer infestation is a nightmare for a large number of households and commercial properties in Brisbane due to the extent of property damage associated with it.
Do you see traces of borer infestation at your property and want professional wood borer treatment? Are you trying to save your pest infested property and searching for advanced borer pest control in Brisbane?
We welcome you to Tom's Pest Control – the destination for end-to-end pest treatments in Brisbane.
We have qualified pest control specialists, state-of-the-art tools, and years of expertise to offer the best borer treatment services regardless of your property type and extent of the infestation. Our borer control specialists will visit your property, complete the pest inspection, provide treatments for the pest issues, and give you tips and techniques to control the infestation in future.
Why Is Timely Borer Treatment Important?
Let's go in detail and see the issues associated with the borer pest infestation. We can also learn why timely treatment is important in saving your property from further damage:
Wood borer infestation in a furniture or wood material can quickly spread to other wooden products at your property and lead to widespread damage. Therefore, you don't forget to seek professional pest control services as soon as you observe the signs of the infestation.
Signs Of Borer Infestation
Every time, you won't see live borers in your property to confirm the infestation. Since early identification of borer infestation is important in ensuring minimal damage to your property, you should regularly check for the following signs:
If you notice the above symptoms of wood borer infestation at your property, call Tom's Pest Control immediately for quick borer control services.
Our Treatment Procedure
Tom's Pest Control offers comprehensive treatments for wood borers that help our customers to safeguard their property and wealth. The four-stage treatment involves detailed wood borer inspection, tailored treatment services, and
ongoing prevention techniques
.
Inspection
Our certified borer control specialists will visit your property and inspect every inch of it for the pest infestation and damage. With the inspection, we will confirm the borer species at your property, the extent of the infestation, the level of damage, and more.
We will also inspect and find the factors that led to the wood borer infestation at your property.
Tailored Treatment Plan
Based on the inspection findings, we will create a tailored treatment plan to control the borer infestation at your property. The control plan will have the treatment procedures, the timeline of the treatment, the expected outcome from the treatment, and more.
We will update you the treatment plan before starting the procedure and may give specific instructions for the inhabitants of the property during the treatment. The treatment plan will have the details of any follow-up treatment requirements as well.
The Extermination Procedure
Our qualified pest control specialists will complete the extermination procedure as defined in the treatment plan. Based on the extent of the pest infestation, we often use a mix of various treatments such as fumigation, water-based treatment, endotherm heat treatment, pesticides, and more.
Tom's Pest Control is not only particular about offering the most effective pest control solutions, but we are also specific to give safe, environmentally friendly treatment experience. Therefore, we use only the approved pest control products per Australian standards to ensure the health and wellbeing of our customers.
Ongoing Prevention
The treatment alone may not protect your furniture from wood borer infestation in the long term. We will also provide you with specific tips and techniques to avoid future infestation. We ensure that all our customers are getting high value, long-lasting solutions by choosing our services.
With a number of general tips, you can significantly reduce the risks of wood borer infestation at your property.
Does your property have high moisture? It helps the growth of wood borer. Ventilate your property; if required, use a dehumidifier
Keep your property floors and walls always dry by proper ventilation.
Remove all types of clutter at your property to reduce the dampness and help visual inspection.
Regularly inspect the property for the signs of wood borer infestation.
Tom's Pest Control's Service Standards
At Tom's Pest Control, we make a long-term relationship with our customers by providing optimal solutions that improve their quality of life. The highlights of our pest control services are the following:
If you see the pest issues at your property are not subsidised within two weeks of our service, you can contact us for FREE retreatment. Our borer control technicians will revisit your property and make your property optimally free of the pest.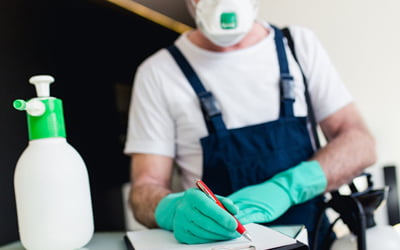 Protect Your Timber Products Today
Call us today on
(07) 3184 4223
or use our online form to let us know about the borer infestation at your property. Let's protect your property and wood products from borer infestation.