Cockroach Pest Control In Brisbane
Cockroaches do not only bring down the health standards of a property environment, but they undermine the value of it as well.
Do you see traces of cockroach infestation at your property and want professional cockroach pest control services in Brisbane? Are you afraid that the pest infestation can make the health of your family vulnerable and search for advanced cockroach treatment services?
Tom's Pest Control is excited to work with you, provide you with qualified pest control services, and offer you a clean environment that ensures the health and wellbeing of you and your family.
Our services are comprehensive that include detailed inspection for cockroach infestation at your property, tailored treatment services, and ongoing prevention tips and tricks for long-term results.
Why Should You Exterminate Cockroaches?
Ignoring cockroach infestation or not completing timely cockroach pest control can be disastrous than you think. In reality, many people consider cockroaches as only a nuisance and never take them seriously.
Do you know the issues and damage associated with cockroach infestation?
It's a fact that cockroach infestation can invite other pests like mites and bugs also to the interior and make your property unhealthier.
Signs Of Cockroach Infestation
You can't always wait for live cockroaches at your property to confirm the infestation. With a number of signs, you could verify the presence of the pest and call for quick treatment services:
If you notice that any of your family members develop symptoms of allergy, asthma, or struggling with diarrhoea, you can make a thorough inspection at the property for possible cockroach infestation.
Queensland homes and commercial spaces have three species of cockroaches in large numbers: American cockroach, Australian cockroach, and German cockroach. Regardless of you require Australian, American, or German cockroach control, Tom's Pest Control has standardised treatment procedures to leave you with a pest-free environment.
Tom's Pest Control's Way Of Treatment
Tom's Pest Control offers comprehensive cockroach treatment services in four stages.
Inspection
We have certified cockroach control specialists who will visit your property and complete an inspection to conclude various details. It includes the cockroach species, the extent of the infestation, the damage to the property, and more.
We will also identify the reasons that contributed to the cockroach infestation at the property. It will help us to create an ongoing control plan to prevent the risks of future infestation.
Tailored Treatment Plan
Based on the inspection findings, our cockroach extermination specialists will create a tailored treatment plan to safeguard your property from the pest. The treatment plan will have the treatment procedures, the duration of the treatment, the expected results, and the details of any follow-up treatment.
We may have specific instructions to the inhabitants that must be followed during the pest treatment. We will communicate the instructions before beginning with the treatment and ensure that you are receiving a seamless service experience.
The Extermination
We will complete the treatment as described in the treatment plan. We may use a number of treatment procedures based on the extent of cockroach infestation at your property. This includes cockroach trapping, surface residual sprays, baits, dust, aerosols, and more.
At Tom's Pest Control, we choose only environmentally friendly treatment procedures as we are committed to giving 100 percent healthy environment for our customers. All the pest control supplies used by Tom's Pest Control are approved per Australian standards and safe for humans and pets.
The Ongoing Prevention
Cockroaches may return to your property after the effectiveness of the treatment is over. Therefore, we will offer you ongoing prevention tips and strategies to make the property permanently free of cockroaches.
Based on the inspection findings and treatments, we will provide you with specific instructions apart from general tips. The following general tips can limit the infestation damage at your property:
Ensure proper sanitation and hygiene; remove any food residue and spills
Remove any clutter as cockroaches hide behind it
Proper disposal of garbage from the property
Regularly inspect the property for cockroach infestation
Why Tom's Pest Control?
At
Tom's Pest Control
, we give an unparalleled service experience with our deep-rooted service standards:
Be it German cockroach treatment or any other cockroach species, we provide only tailored solutions that can ensure optimal cockroach control at your property.
You can contact us for a FREE retreatment if you see the pest issues are not subsidised at your property within two weeks our service? Our cockroach control specialists will return to your property and complete the treatment based on your expectations.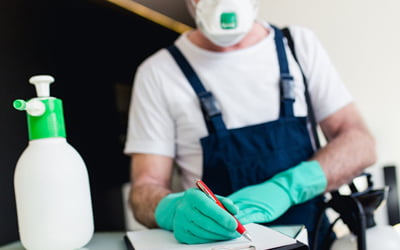 Make Your Property Cockroach Free Today
Call us today on
(07) 3184 4223
or use our online form to let us know the cockroach issues at your property. We will provide you with an upfront quotation and give you tailored treatment solutions to make your property healthy and seamless.