Bed Bug Pest Control Treatment In Brisbane
Bed bugs can bring down the physical and mental health of the family members of property and impact their quality of life.
Do you and your family struggle with disturbed sleep and wonder what's bothering everyone? Are you searching for high-quality, professional bed bug pest control in Brisbane to restore your healthy environment?
We welcome you to Tom's Pest Control – the destination for a comprehensive range of pest control services. We have qualified technicians, modern systems and tools, and several years of expertise to offer safe bed bug removal services for residential properties, industrial facilities, and commercial spaces.
We offer tailored bed bug treatment services that include comprehensive property inspection, advanced treatment procedures, and ongoing prevention techniques and tips for long-term results.
Why Is On-Time Bed Bug Treatment Important?
Bed bugs do not transmit any diseases or make any property damage apart from the infected mattresses and furniture. But these pests can make your routine life horrible and spoil your active life.
In Australia, you can find two types of bed bugs: cimex lectularius and cimex hemipterus – also known as the tropical bed bug. Compared to cimex lectularius, cimex hemipterus is more common in the country.
Signs Of Bed Bug Infestation
Since bed bug bites are painless, you may not identify the infestation initially. It can advance the infestation over time. However, you can get traces of the infestation with the following symptoms:
If you notice any of the above-mentioned signs or symptoms in your property, call us immediately for a quick bed bug inspection and treatment.
The Comprehensive Treatment
Tom's Pest Control offers comprehensive treatment services – a four-stage treatment – to safeguard you and your property from the bed bug issues. Our tailored treatment services help you even to address the reasons behind the pest infestation, provide you with permanent results.
Inspection
Our qualified pest control specialists will quickly take stoke of the issue and visit your property to complete a comprehensive bed bug inspection. It will help us to confirm the bed bug species, the extent of infestations, the damage due to the pest infestation, and more.
Our technicians will also assess the factors that led to the bed bug infestation at your property and confirm the removal of any mattresses and other personal properties as part of the treatment.
Tailored Treatment Plan
Based on the inspection results, we will create a tailored treatment plan to make your property bed bug free. Our treatment plan will include the treatment procedures, the timeline of the treatment, the expected outcome from the treatment, and more. The treatment plan will also have the set of instructions for the inhabitants of the property during the treatment.
We will also list down the pest infected furniture and personal products and create treatment plans to retain as much of them as possible.
The Extermination Procedure
Our certified pest control specialists will complete the bed bug extermination and control at your property per the treatment plan. Based on the extent of the bed bug infestation, we may use a mix of different treatment methods to get the best results. Some of the treatment options include bed bug heat treatment, application of organic materials, and the spraying of insecticides.
At Tom's Pest Control, we offer a healthy pest control experience as the safety of our customers and their family is our main concern. We use only environmentally friendly, safe beg bug control products for our treatments.
Ongoing Prevention
Our extermination procedure will make your property totally free of bed bugs. However, the treatment alone may not guarantee you from future infestation. You can only achieve this by ongoing prevention techniques, and we will provide you with specific tips and techniques to avoid any future bed bug infestation.
Some general tips can work great and limit the infestation issues for almost every property. For that, you must
Regularly wash bed sheets and blankets and dry them in hot settings
Reduce clutter, steam clean carpets
Inspect your property for signs of bed bugs at regular intervals
Why Tom's Pest Control?
Everyone at Tom's Pest Control is working to provide a unique service experience for our customers. The specialities of our pest control services are the following:
If you see that the pest issues at your property are not controlled within two weeks our service, you can contact us for FREE bed bug retreatment. Our pest control technicians will revisit your property, complete the treatment to give the best results, and make you fully satisfied.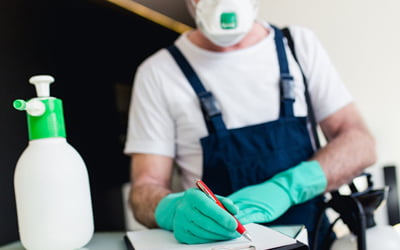 Make Your Property Free From The Hassles Of Bed Bugs
Call us today on
(07) 3184 4223
or use our
online form
to update the bed bug issues at your property. We will help you to create a healthy, seamless environment with state-of-the-art pest control procedures and modern tools.