General Pest Control Services In The Gold Coast
Do you think that the hygiene of your property is compromised as you see traces of various pests in your property? Are you searching for general pest control services to exterminate the common pests found in your environment?
Welcome to Tom's Pest Control – the trusted name for comprehensive pest control in the Gold Coast.
Our local pest control teams will quickly come to your property, complete the pest extermination, and help you with techniques and methods to safeguard you from future infestation. Regardless of the type of property and the extent of pest infestation, our tailored pest control services will help you make your space totally free of pests.

The Importance Of General Pest Control
Properties often have infestation issues by multiple pest species, not just one. Therefore, an extermination service that addresses only one type of pest is not the right option for them to make their property pest-free.
Some pest species attract other pests – mostly their predators – into the property. For instance, silverfish often bring in their predators such as spiders, cockroaches and centipedes interior. Also, termite attack at properties can give easy access for various pests to the interior. A general pest control procedure can address the common pests found in a residential or commercial property regardless of the species.

What Pest Species Do Our Treatment Control?
Our general pest control is a convenient choice for comprehensive pest management with minimal pest control team visits to your property and no additional or individual expenses. We will remove the following pests from your property and make your property secured from future infestation risks:
Do you have termite issues, rodent infestation, or wasp attack? We are happy to provide you with tailored pest control services based on the pest species and the extent of the infestation.
Feel free to discuss the pest issues at your property with our technicians today and learn more about our treatment options and procedures. Our technicians will give you an upfront, obligation-free quote for our service and guide you to comprehensive pest management.

A Four-Stage Pest Control Process
We have a four-stage pest control process that addresses existing pest issues at your property as well as the underlying factors that led to the infestation. It helps us to provide you with long-lasting pest control results.
Pest Inspection
Our service begins with a detailed pest inspection. Our pest technicians will examine your property for pest infestation and the associated damage. We will document the pest species present at your property, the level of infestation, property damage, the factors led to the infestation, and more.
Our comprehensive inspection report will have the findings, photographs of infestation, treatment recommendations, suggestions for property maintenance, and more.

Treatment Plan
Based on the pest inspection results, we will create a tailored pest treatment plan for your property. The plan will have all the details about the pest control, including the type of pest treatments, the pest species being treated and the outcome, the timeline of the treatment, and any special instructions to the inhabitants.
If your property has complex pest issues, we may perform a follow-up treatment to ensure optimal removal of the pests. In such cases, we will include the details of the additional procedure in the treatment plan.

Pest Extermination
Our pest control specialists will complete the extermination at your property as outlined in the treatment plan. Based on the pest species and the extent of the infestation, we may use a mix of treatment procedures to get the optimal pest control results.
Regardless of the pest type, we use only safe, family-friendly, and approved products and procedures for the control. When possible, we use organic products as we are focused on creating a healthy environment around the properties of the customers with our services.

Ongoing Control
Through the treatment, we also address the factors at your property that led to the pest infestation as we want to give you long-lasting solutions. Based on our inspection findings, we will provide you with specific techniques, property repair suggestions, habitat modification recommendations, tips to improve the hygienic standards of the property, and more.
Regardless of the pest type, excellent hygienic standards at your property can minimise the risks of future pest infestation. The following tips and techniques can greatly help you in creating a healthy environment around you:
Keep your property and surroundings properly sanitised and maintained, always.
Remove any form of clutter from your property as certain pest types will find it as safe for hiding.
Keep food – including pet food – in tight containers after use and clean the food spills and residue in your kitchen and dining space immediately after the consumption.
Run dishwasher daily and dump food and organic waste in trash containers with tight lids. Also, clear the trash containers on a regular basis.
Inspect your property and surroundings regularly to identify any pest infestation signs. It will also help you identify any property damage that can give easy access for pests to the interior.
Why Tom's Pest Control?
We became the primary choice for the homeowners and businesses of the Gold Coast by providing high-quality, comprehensive, and tailored pest control solutions based on their needs.
You will find us as a great partner for your pest control needs with the following characteristics:

Do you notice that the pest issues at your property are not subsidised after our treatment? You can contact us within two weeks of the procedure; our pest control specialists will come back to your property and complete the extermination again based on your expectations for FREE. We will ensure that you are getting optimal pest control results through our treatments.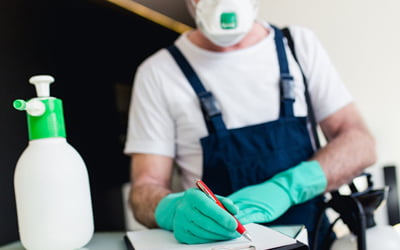 Make Your Property Pest-Free Today
Call us on
(07) 4085 9015
or use our contact form to discuss your pest issues and schedule a property visit. You will get an obligation-free quote for our procedure in advance to make the service a transparent experience.